Some book or something I read suggested that I should go to the Great Northern Railway Depot in Whitefish. I did, but the only interesting thing was the Great Northern Railway logo. Maybe not "interesting", I just thought it looked cool:

I like the goat, I guess.
Otherwise, Whitefish looked like most other ski towns. It would probably be a cool place to go skiing. Since there was no snow, I went to lunch instead at McKenzie River Pizza. The food looked a little like this: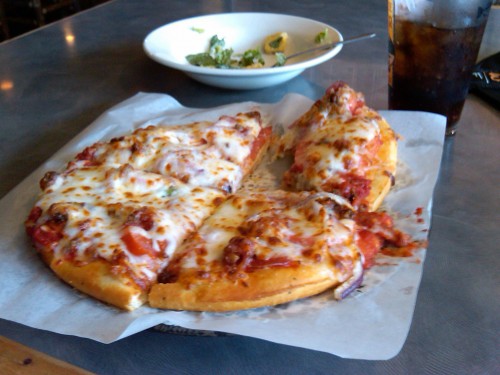 Or a lot like this, actually.
They were having the lunch special on "The Rancher", so that's what I got: "seasoned" beef (does that mean it's "experienced"?), bacon, pepperoni, onions, tomatoes, and green peppers. I had them leave off the peppers, though. It was, as the Canadians say, quite good.
Oh, but before all this Whitefish **** went down, I left the National Park to go take a shower at the KOA kampground nearby. You pay them $5 at the office, then they point you to the back of the kampground and tell you to have at it. I'm guessing it'd be easy to sneak in without paying. OTOH, I'm guessing if they see you trying it, they wait until you start undressing before they come to harass you. And no, there are no pictures. I also bought firewood at the KOA because it's a few bucks cheaper than it is inside the park.
After lunch, I drove back to the national park. On the way, I took this picture of which is so typical of pictures that I take it makes me vomit with rage: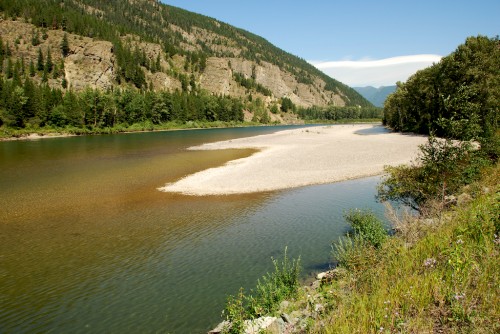 I like rivers and green-brown gradations. Sue me.
The river was (is!) Flathead River. There's nothing of particular interest that caused me to add the link, it's just an homage to the origins of web-logging.
Then I came to the metropolis of Hungry Horse. They have a motel there: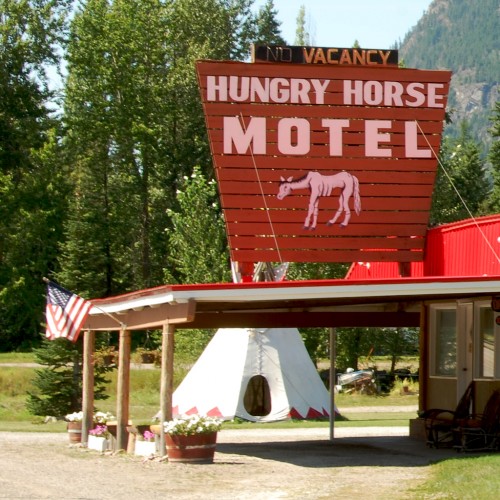 I think it's for sale.
Got back into the park, then pulled off toward Apgar Village (had a site at the Apgar Campground), then went to the picnic area so I could go kayaking: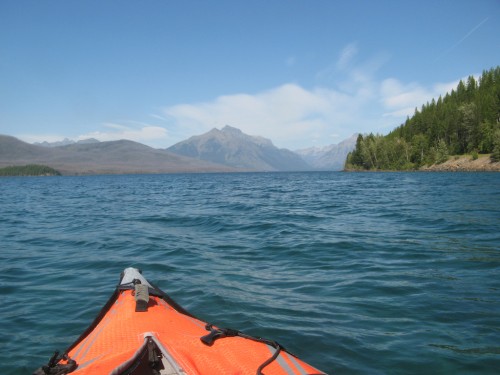 Inflated and ready to go!
I went fishing while in the kayak. It wasn't as easy as I thought it would be and ended when my line broke off at the weight and I realized there was no way I was going to be able to re-configure the line without flipping the boat. OTOH, I got some good paddling practice in for when I'm in Minnesota. The portaging practice was less enthralling.
Then I went back to my campsite and ate the rest of the pizza and waited for it to be dark enough to build a fire that I could then read by: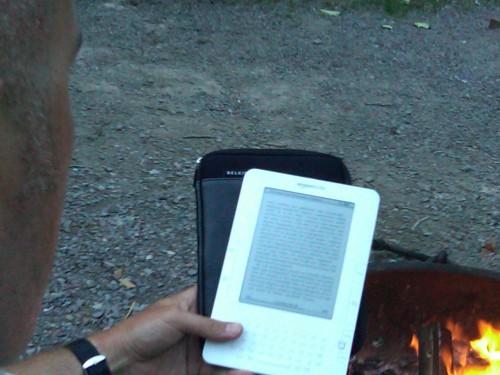 And if the Kindle displeases me, disposal is only a couple feet away!
The Kindle doesn't displease me. And I was reading Gordon Wood's The American Revolution: A History
, which is about as concise a book on the revolution and origins of American government as you'll ever find. Very enlightening and very applicable to present-day politics. Highly recommended if you haven't taken a US History class in a couple decades.
Some other notes:
There are a lot of trains that pass by the Apgar Campground.
It gets cold at night in Montana.
I think these two things conspire to keep me from sleeping here.
I think I sleep better where there's moderate humidity.
Although I also think I should maybe get another pad to put between my cot and my sleeping bag.
I'm also considering actually using my tent some time.
Maybe tomorrow night.
bkd