When we were on the Nachez Trace Parkway and I went and hiked down to Jackson Falls, I ran into this way old guy and another dude. After the younger guy told me how cool the waterfall was, the old guy started talking to me and then handed me this brochure.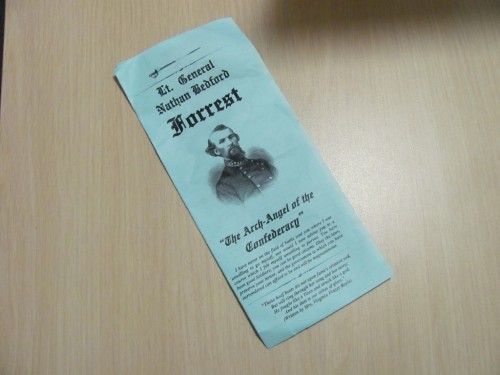 Forrest Gump's namesake!
Their marketing efforts betray a lack of marketing savvy. Frex, I question their font choice. Italicized Fraktur? IMHO, nothing would better convey modern European racial purity like Helvetica. And you'd think they'd avoid using the term "wizard".
Anyway.With that, in addition to all the pulled pork, country music, and universal gentility, I felt like I'd experienced the full, True South. Although I suppose I should've had to go through some race riots as well. Next time maybe.
bkd