Knocked off another of The Great Burgers of the World yesterday, the "Hamburger and Fries" from "The Burger Joint" in SF, at the corner of "Haight" and "Pierce". (Would've put SF in quotes, but it seemed too obvious.)
Here's what it looked like part-way through: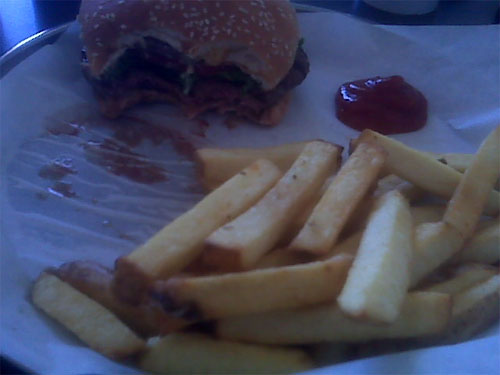 The now-traditional bad cell phone hamburger photo.
You can check out other blog entries (of mine) regarding GQ Top 20 hamburgers on my other blog here, if you're so inclined (and who wouldn't be?). Plus you can encounter my raving narcisissm more clearly on display.
As for this burger — I don't know any more whether any burger deserves to be in the Top 20 of anything. That said, it was a really good burger. Very straight-up, nothing fancy about it: burger, lettuce, tomato, onion, pickle. Was fried-to-order, medium-rare (and a little on the rare side at that!). Cost like $11, which would be steep if it weren't in "San Francisco". Fries were big, but average. Only issue with the burger was a little bit of disintegrating bun syndrome, though not as bad as some I've had and probably hard to avoid given how much blood was still seeping out of the patty.
And I tried to get the #11 burger for dinner tonight in Napa, but was told that they "sold out of hamburgers at lunch". I think that disqualifies that one from the list.
Having now showered for three nights in a row (!) and therefore going soft,
bkd
(Side note: very, very good-looking cashier — sorry, no photo. If it'd been LA, I'd have assumed she was an "actress"; not sure what the SF equivalent is.)