I liked South Carolina, I'm going to miss it. Folks were polite, the tourist attractions and beaches wholly uncrowded, the swamps were quiet, weather was perfect, great barbecue restaurants. Yeah. Anyway, there was this bombed out church just maybe a half-mile from where I camped. It was called the "Church of Ease". Cool and sort of romantic-spooky looking, IIDSSM. Like it should be the setting for some Southern Gothic novel or movie (if it hasn't been already).
OTOH, if you'd like to pass your own judgements…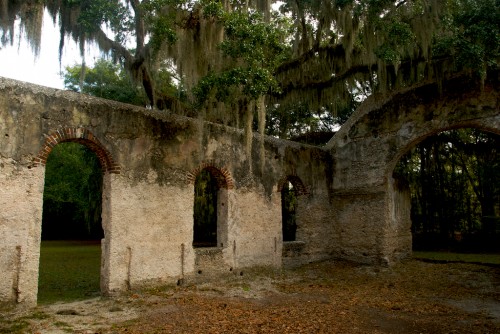 The church's interior with spanish moss Beilage.
A tree! Also a crypt at lower-left. And some tombstones if you zoomed in real close.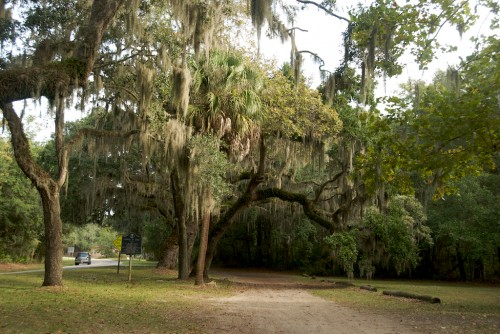 The church driveway.
Actually, I think it just burned down rather than having been bombed.
Also, at Steve's suggestion (he was the guy who owned the campground), I checked out this beach that no one knows about but him. Well, and some other locals, I imagine. Pretty and uncrowded, though, although if you'd like to pass your own judgements, again: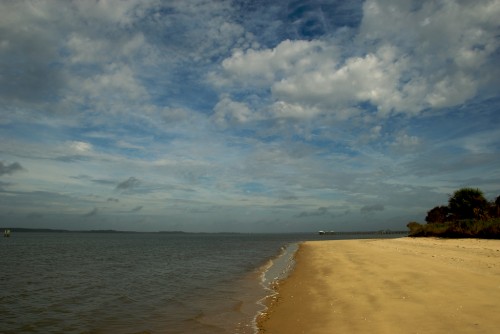 Or you could've just taken my word for it.
And with that, South Carolina was done. OTOH, if I were to move to any of the southern states I've seen in this trip so far… yeah, or Virginia. Although Virginia mostly just because I imagine they have more/better jobs there.
Meh,
bkd