Ways in which Blue Ridge Parkway is different from Shenandoah National Park:
It's not a national park. It's a road with protected lands on either side of it that is administrated by the National Park Service.
It's hills are 40% steeper than Shenandoah's.
It has lakes and rivers alongside the roadway.
It's further south.
There are remnants of a lost civilization along the route.
The locals have a much stronger accent.
Way-cooler place names ("Peaks of Otter"? You can't beat that.)
It's 4.5x as long.
Better campsites.
Lower visitor density.
Camped at the Beaver Creek Campground (so nicely creek-situated and wooded I'd have thought it was administered by the Forest Service) and went to the camp restaurant for food in the morning. Walked inside and the place is almost full with what appear to be locals. The six at the bar are engaged in a vigorous discussion over "red-eye gravy" and their drawls do not seem ironic. And with that, I realize that I'm in The South. Never been to The South before.
Blue Ridge Parkway, IMHO, > Shenandoah National Park by a good ways. The hills are more pronounced and interesting, the running water is a plus and gives you something to take a picture of if you have to, the abandoned hillbilly structures are kind of cool, and, like I said, there are fewer people. I only drove the Virginia part of it, though. I'm saving the state of North Carolina for another day (Day 88 actually).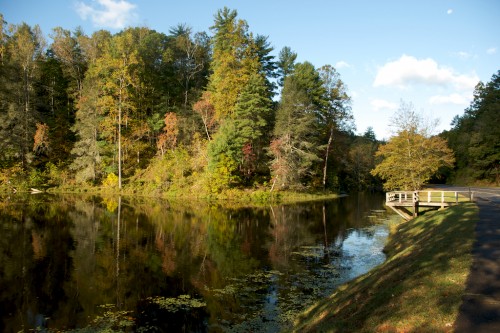 Don't remember the name of it and it's not on the map, so there.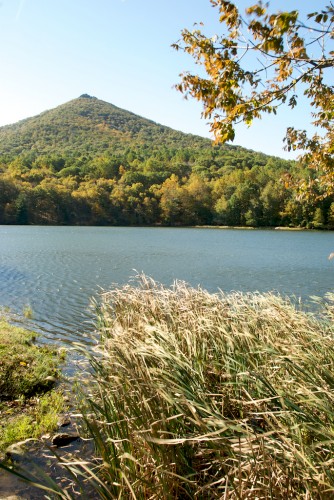 Sharp Top, one of the two Peaks of Otter. It's near Bearwallow Gap. Man. And there was, in fact, an otter in the lake (which is not called Lake of Otter, sadly). (It would make the otter insufferable thinking it had been named for him.)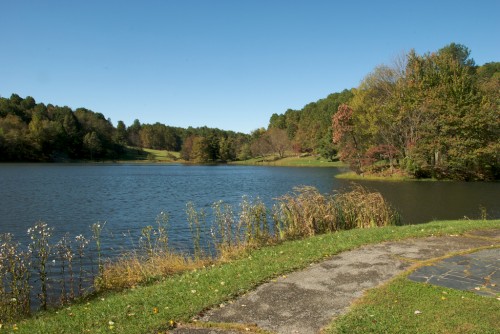 I think it's called Abbott Lake.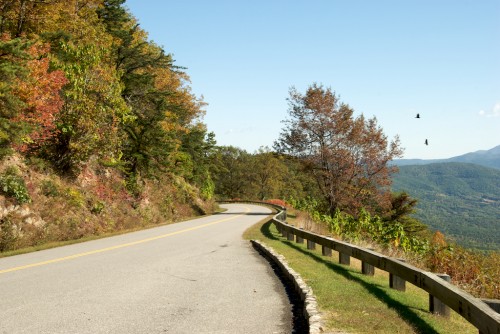 Dismayed by yet another photo of a road with trees on it, the crows flee.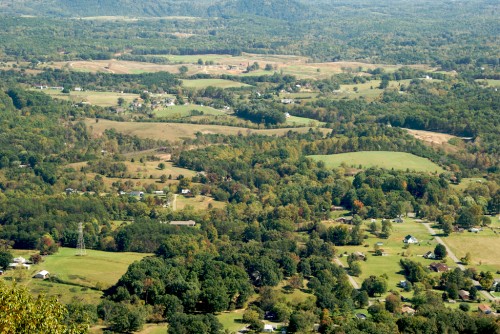 The valley below — this goes on for 460 miles or whatever.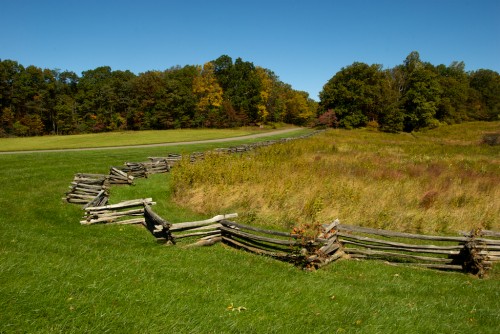 What with the fence and all, it could pass for a Civil War battlefield.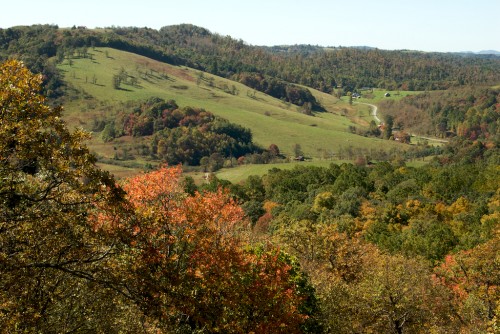 Ah, fair Appalachia, long may your hills yet roll!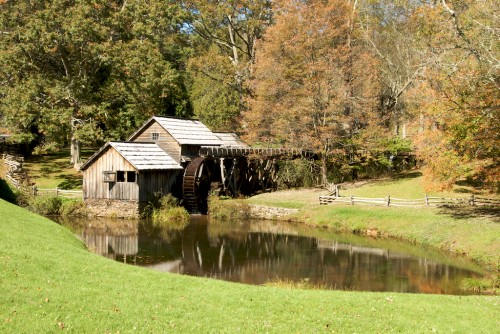 Mabry Mill, a "functioning" water mill (it functions in that water turns the wheel).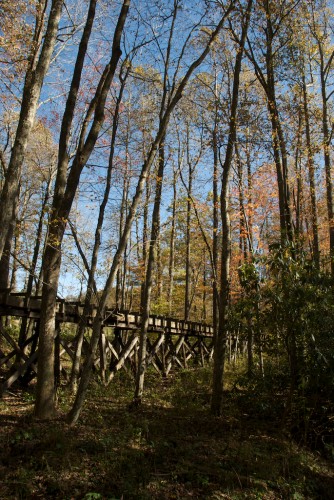 If a flume leaks in the woods and no one's around, does it actually get anything wet?
Another day down. Blue Ridge Parkway has most of the same problems as Shenandoah — or at least, the one big problem: there's nothing to do there but look at stuff. The Appalachian Trail runs through both of them, but apparently the AT is just a walk in the woods for not apparent reason — at least until it turns serious up in New Hampshire, I guess.
Based on perceived scenery, the PCT hasta be about 100x the trail the AT is.
Ah, well. I also remind myself frequently that the alternative is sitting in a gray-walled cube, at which point time spent in 2,000-foot mountain ranges without anything to do but drive and look start looking better. OTOH, what about the *opportunity cost*?! I should've spent another couple days in New England. Now I'm stuck taking that bitter failure to the grave. Eh — have to take something, I guess.
bkd