November 16th, 2009
Comments off
See, because there are three main zones in the park: (1) mountains; (2) desert; and (3) river. Right.
And before things get too wild, I'd like to mention that this national park is in the middle of nowhere (which I guess is better than being at the edge of nowhere, because at least it's in the middle of something). It's a hard park to get to without meaning to be there. OTOH, (they claim) it has the darkest night sky of any NP in the lower 48. Would probably make it a good place to be a burglar — not that anything happened.
Hiked to "The Window". Kind of a short hike (4.5 miles), mostly tourists. And most of the good pictures I got of the mountains were from the Visitors Center rather than the hike. Naturally.
'Course, they didn't have one of *these* at the Visitors Center: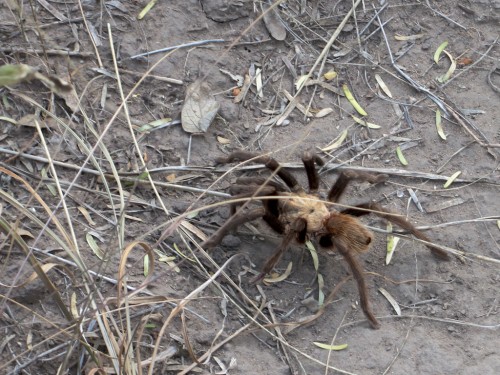 A tarantula! Or maybe it's a tarantulo. It's hard to tell without flippin' 'em over.
About the size of my hand. And then the trail (although, technically, the tarantula photo *is* a photo of the trail.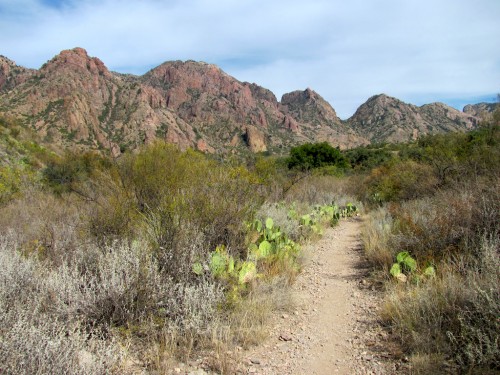 Here's the trail. Not bad-looking for a desert. Oh wait — these are mountains, not desert.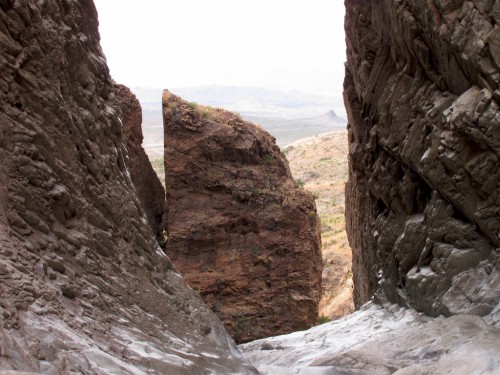 Then this is "The Window" itself.
So it was kind of a dull hike — but at least I got to sweat a lot. Then I went back to the campground and visitors center to get some *real* photos. Relatively real. Two of them.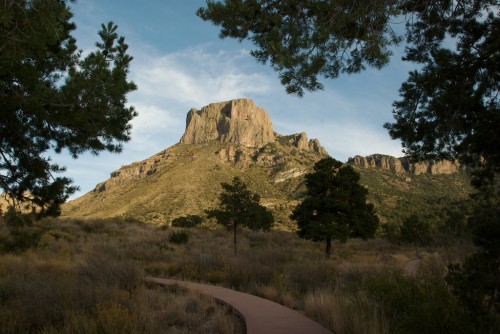 Casa Grande from the handicapped-accessible trail.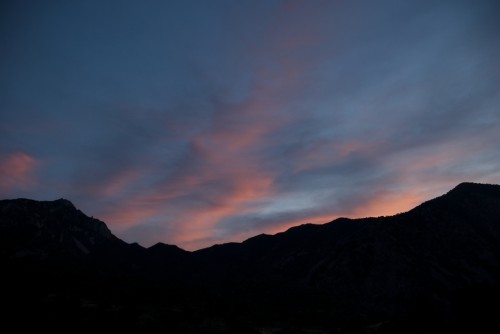 A middling-quality sunset, with mountain silhouettes.
Then I decided that since I'd never gone to a National Park ranger lecture at a campground amphitheater before, I should try that. So I went, listened to a guy talk about how old rocks are for 20 minutes, then tried to leave quietly. There was a new moon, which made things especially dark, but I found these guys right outside my campsite.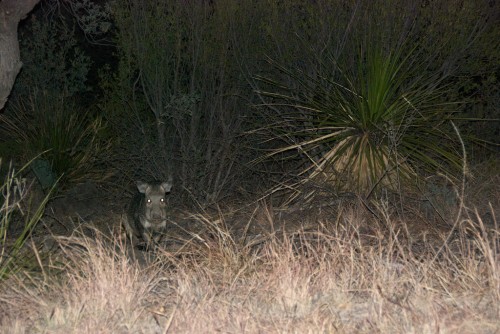 A javelina!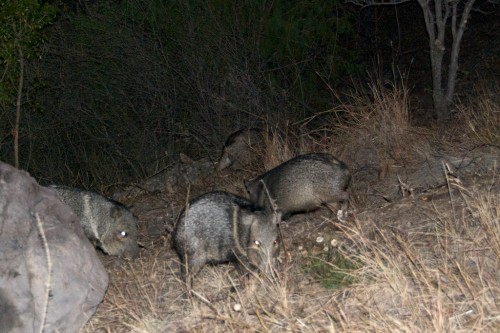 And his merry band!
(It's hard to compose wildlife photos interestingly when you can't really see the wildlife so well.)
And then I went to sleep.
bkd