Someone Over at the Biltmore Estate Needs to Get Beaten Up (Day 90)
It costs $55 to give yourself a tour of the Biltmore Estate (a house). Let me type that out in words so you don't think that's a sticky keyboard issue: fiffty-five dollars. I didn't realize this before going in to buy my ticket.
Me: I'd like to see the house.
Woman: That'll be $55.
Me: U.S.?
Woman: [pretends not to hear]
Let me bash the Biltmore Estate more before putting the price in context. Thanks.
While its original owner was a Vanderbilt, his first name was not Cornelius.
He was a grandson of Cornelius Vanderbilt — all the money spent to build the place was inherited.
His two older brothers inherited the family business — the guy who built this house didn't even have a job.
The house was lived in for thirty (30) years before it was opened to the public, at which point it was no longer lived in.
It was opened to the public because the family couldn't afford to keep the house.
Therefore, it served as a house for 30 years and as a tourist building to be walked through for 80 years.
Some of the rooms weren't finished until long after the house became a tourist-building.
In spite of this, everything in the house makes out as if (a) this Vanderbilt family was important and (b) their time in the house was significant.
The estate employs 1,900 people. It's a non-house house with a bunch of grass around it. 1,900 employees.
Despite the $55 cost to enter the house, you're not allowed to take photographs anywhere inside.
Excluding driving time, parking time, and time spent walking from the parking lot to the immediate house area, I saw everything I needed to in about an hour.
It's The Biggest "House" in the Country, which screams of unfamiliarity with restraint. The interior maybe isn't as tacky as Marble House in Newport or Hearst Castle (although Wm. Randolph Hearst at least did some stuff to increase *his* inherited wealth) — but then, it's the gaudy, expensive stuff in those houses that makes them worth seeing. This one just seemed like someone's outsized ego that, once it came down to interior decoration, couldn't be matched by his bank account.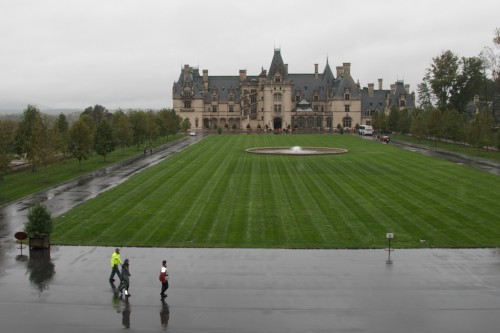 Big house.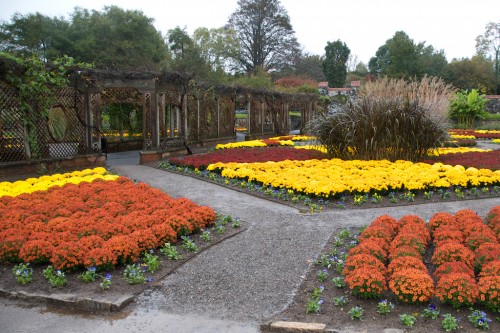 Relatively normal-sized garden.
So, just to help better illustrate how ridiculous $55 for this house is, here's a comparison of the prices of various attractions I've visited on this trip (and a couple other popular sites I haven't visited).
| | | |
| --- | --- | --- |
| Site | Cost | Note |
| Disneyland | $72 | Includes unlimited access to rides. |
| Biltmore Estate | $55 | Audio tour only $10 extra. |
| SeaWorld (San Diego) | $55 | |
| Sounders Game (Scalped) | $50 | |
| Boundary Waters Canoe+Campsite | $44 | Per-day price. |
| Colonial Williamsburg | $36 | |
| Newport Mansions | $31 | Includes access to five mansions and audio tours (single house = $12). |
| Hearst Castle | $24 | Includes guided tour. |
| Mackinac Island Ferry | $24 | |
| Monticello | $20 | Someone important actually lived here; includes guided tour. |
| Yosemite National Park | $20 | |
| Buffalo Bill Historic Center | $15 | |
| Sea Lion Caves | $12 | |
| Shirley Plantation | $11 | Includes guided tour from hot tour guide. |
| Eastman House | $10 | Includes photography museum. |
| Niagara Falls Parking | $10 | There's no actual entry fee. |
| Whiteface Mountain | $10 | Includes road access and elevator ride. |
| Patrick Henry's Home | $8 | Includes guided tour. |
| Cape Hatteras Lighthouse | $7 | Was in use for more than 30 years. |
| Ft. McHenry | $7 | |
| Air Force Museum | $0 | |
| Marine Corps Museum | $0 | |
The most remarkable thing about the place, IMHO, was that it was fairly *packed* with people, despite my being there on a bad-weather weekday. Is there really nothing better to do in this part of the country? OH man.
Or, in short: bad value.
bkd